Imagine a world where war, tyranny, human rights abuses and ecological destruction are relics of the past. What if the means to create such a reality were in the hands of mothers and fathers, and all those involved in the care and education of children?
'Parenting for a Peaceful World' is a fascinating look at how parenting customs have shaped societies and major world events. It reveals how children adapt to different parenting styles and how these early experiences underpin the adults they become.
In this expansive book Robin Grille draws on revolutionary new research to argue that the safeguarding of children's emotional development is the key to creating a more peaceful and harmonious world.
'Parenting for a Peaceful World' is a book for parents, child health professionals, and for adults learning to be whole again. It is a manifesto for policy-makers and a resource for teachers. If the findings outlined in these pages are put into practice, the result may be a revolution of peace, humanity, and a world beyond our imagining.
Parents, teachers and child-health professionals, will learn about:
Groundbreaking new discoveries about emotional development and the growing brain that will revolutionize our approaches to child-rearing and education.
How emotional intelligence develops in early childhood - and what this means for you as a teacher, health professional and / or as a parent.
How to promote healthy emotional development in children: helping them to be more self-confident, fulfilled, responsible and considerate, while sharply reducing the incidence of anti-social behaviours, delinquency, depression, addiction, and a number of mental illnesses.
How childhood experiences drive human relations and, ultimately, the functioning of our societies.
How our child-rearing choices can help to create societies that are more peaceful, harmonious, just and sustainable.
Policy-makers and politicians will learn what leading-edge, international research has told us about:
How child-rearing customs impact societies, international relations and major word events.
Evidence for the remarkable cost-effectiveness of parent-supportive social initiatives, such as early intervention programs.
The grave economic and social cost of authoritarian or emotionally neglectful parenting and education - for instance, how the excessive use of childcare, or of discipline methods that employ corporal punishment or shaming, impact upon the areas of mental health, substance addiction, bullying in schools and crime.
Family-supportive policies that demonstrably reduce crime, domestic violence, substance abuse and mental illness.
The role of child-rearing reforms in promoting peace, social justice and sustainability.
'Parenting for a Peaceful World' (Longueville Media, 2005) is available at: www.naturalchild.org/ppw for North American readers, and www.our-emotional-health.com/book.html for readers from elsewhere in the world.
ACCLAIM
'Parenting for a Peaceful World' is a brilliant and original synthesis of leading edge research from several fields in the social and biological sciences. Grille's book can give readers an excellent orientation to meaningful research in psychohistory, neurobiology, developmental psychology, attachment theory, democratic education, and more. At the same time, it is a bold and innovative contribution to the literature on the changes needed for building the cultural foundations for peace, human rights, and environmental sustainability. In Robin Grille's view, such transformations depend ultimately upon how well children are nurtured.
The grace and lucidity of the writing make this book a pleasure to read. The author tells a good, engaging story, and I cannot think of a more important or urgently needed book to recommend.
Mitch Hall, Dean of the School of Humanities, New College of California, Board Member of PTAVE
---
In clear and compelling language, Robin Grille takes on the Herculean task of exploring the childhood origins of human action and choice, from its most violent to its most humane, for individuals as well as for families and countries, and for the most simple to the most complex behaviour - and against all odds, he succeeds. This is the book that could save the world, if we can only pay attention.
Jan Hunt, MSc, Director of The Natural Child Project and author of 'The Natural Child: Parenting from the Heart'.
---
Beginning with a tour de force on the history of childhood, Grille provides both a grand (and sometimes upsetting) perspective on the evolving ways adults have related to children, then offers down-to-earth, practical wisdom for parents that is specific to all the developmental stages. He draws on personal experience as well as solid, but sadly, little-known research, to break new ground with his thought-provoking perspective combined with a very readable personable style. Reading 'Parenting for a Peaceful World' rekindled my desire to change how we treat children (and ourselves) and it excites me that Robin's vast knowledge and resources are now available in print.
John W Travis, MD, Master of Public Health (MPH), co-author of Wellness Workbook, co-founder of Alliance for Transforming the Lives of Children
---
What a marvellous parenting book! And at last a major Australian contribution to the history of childhood in the noble de Mause tradition! The message of Robin Grille's book is instructive, timely, and vital. As well as for parents, politicians, and the public generally, 'Parenting for a Peaceful World' is a must read for anyone and everyone in the child development profession.
Stephen Juan, Ph.D., School of Development & Learning, The University of Sydney
---
Grille successfully opens the borders of parenting beyond sentimentality, and into the arena of profound social contribution. His book is filled with gems for anyone passionate about our future. This book should be required reading for all parents, politicians, social change activists, teachers, leaders and visionaries.
Kali Wendorf, editor of Byronchild Magazine, Australia
---
I congratulate Robin Grille not only for his outstanding, accurate and insightful content but also for his moving, clear writing - a rare ingredient for scholarly books.
Lloyd de Mause, director of the Institute for Psychohistory, editor of the Journal of Psychohistory, founding president of the International Psychohistorical Association.
---
Robin Grille traces gradual improvements in parental practices over the past few centuries and points the way optimistically towards a future where children's needs are responded to empathically and sensitively. Here is the 'how to do it' path to a fairer, more egalitarian society. If you aspire to a future of happy children raised in a happy society, this is the book for you. Passionate, eloquent, scholarly yet accessible - in a word, brilliant!
Dr John Cunningham, Department of Psychology, Macquarie University, Australia
---
The combination of a strong foundation of clinical experience, journalistic integrity and concise ideas supported by extensive references sets this book apart from the work of others in the field. I believe that the framework for change provided in Robin Grille's book will become essential reading.
Victor R Evatt, President, Australian Association of Infant Mental Health (NSW)
---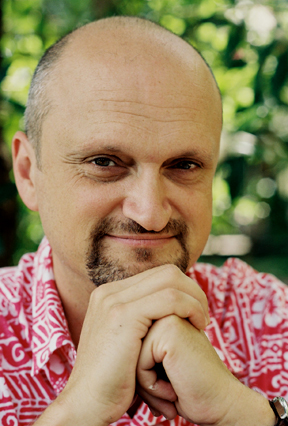 ROBIN GRILLE
ABOUT THE AUTHOR
Robin Grille is a psychologist and psychotherapist with extensive experience working with individuals, couples and families, and teaching or facilitating groups. His writings on child development, parenting issues and family relationships have been widely published in Australia, the United States, Canada, South Africa and Israel. Robin lives with his wife and daughter in Sydney's 'northern beaches' area.