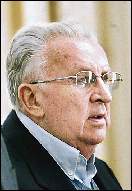 DAILY RECORD FILE PHOTO
Several men who said they were tormented by former Chartwell Manor headmaster Terence Michael Lynch have contacted the Morris County Prosecutor's Office. They say they want the now-72-year-old Lynch to appreciate the damage that he did to their psyches.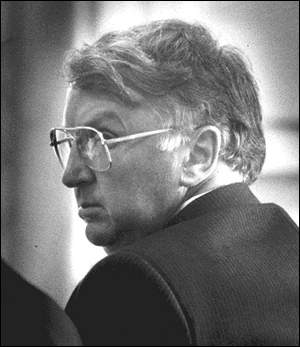 Terence Lynch was in prison for seven years.
Thirty years later, Mike Uhl still can picture how the headmaster of the boarding school he attended in Mendham Township ritualistically lined up the naked boys to inspect them for cleanliness after their showers.
Uhl, like other former Chartwell Manor pupils Glenn Head and Dominic Frasca, still recall the humiliation and pain of beatings that they say former Headmaster Terence Michael Lynch inflicted on their bare buttocks for infractions such as smoking, getting a bad grade, or missing a homework assignment.
Lynch has been out of their lives for at least two decades. He spent seven years in prison -- from 1990 to May 1997 -- for sexually abusing 12 otherboys between the ages of 12 and 16 at the now-defunct Chartwell Manor between 1981 and 1984, the year the school closed. Yet, news of Lynch's arrest in Morristown in December on sexual misconduct charges has rekindled feelings of rage and loathing toward Lynch that never died in many men who were troubled boys or teenagers living under his tutelage.
Some learned about Lynch's arrest through news accounts or through calls from friends. Some found out through a Yahoo! support group on the Internet that Uhl started about five years ago for people to trade stories about Lynch, the British Isles-born Morristown resident who insisted that students call him "sir."
Several men who say they were tormented by Lynch have contacted the Morris County Prosecutor's Office. They want authorities --and the now 72-year-old Lynch -- to appreciate the damage to their psyches.
"His arrest has opened a lot of old wounds," said Uhl, now a 45-year-old resident of Calais, Maine. "He never really went away for a lot of us."
"You try to get on with your life, but it's hard," said Frasca, now a 47-year-old resident of upstate New York. "He had his own little world he lived in and he forced the students into it. His new arrest has rekindled stuff that was buried deep."
Kinnelon resident Bill Moore, 51, never knew Lynch at the stone mansion he converted in 1970 into a boarding school for hyperactive and dysfunctional children and named after the country estate of Sir Winston Churchill. Moore, instead, met Lynch when he was employed in the 1960s as headmaster at Somerset Hills School in Warren, Somerset County, and Moore was in sixth and seventh grades.
Moore said Lynch had a ritual of checking the boys' genitals to gauge their sexual maturity, and encouraged the older boys -- who lived in separate housing at Somerset Hills School -- to stroll around naked before bedtime.
Buttock beatings were rampant, Moore said. A Jewish man, he said he particularly remembers how Lynch would hold part of a comb to his upper lip and imitate Adolf Hitler. At times he is stunned by the flashback of how Lynch slapped him hard across the face in front of a group of other students, or how Lynch selected certain boys to watch television with him in bed.
"It reminds me sometimes of a battered woman -- being so scared of him but longing for his attention," Moore said.
Uhl said Lynch, as Chartwell's owner and headmaster, had a forceful, hypnotic quality that compelled students to obey him, even when he bent them over his knee to beat them with a slipper, his hand, a brush or paddle.
Denville resident Andrew Fleisig, who was at Chartwell for the fourth and fifth grades, said he was initiated with an immediate, bare-bottomed spanking by Lynch because he cried when he arrived at the boarding school.
"I think he's a very ill man," Fleisig said.
Lynch went to prison for seven years of a 14-year sentence for sexually abusing boys by spanking them, squeezing their genitals, or giving them enemas. None of the men interviewed for this article were among those Lynch was convicted of victimizing.
Lynch was released in 1997 and was classified under Megan's Law as a convicted sex offender at high risk of re-offending. Still, he was able to land a volunteer position at the Morristown-run Beginnings drug and alcohol counseling program when released from prison.
Last year, the prosecutor's office started an investigation when a man receiving counseling at Beginnings as part of his court-ordered probation complained that Lynch spanked his bare behind when he failed a urine test. The probationer alleged that Lynch told him that the spanking was punishment and that he would not tell his probation officer about the urine test.
The investigation uncovered two more adult men, who said Lynch performed hernia exams on them. One man told police that Lynch called himself "doctor," and he assumed he was a medical doctor. For these alleged offenses, he is charged with three counts of criminal sexual contact.
Morris County Assistant Prosecutor Maggie Calderwood, who is handling the case, said she cannot make any comments on a pending case or on plea negotiations.
Defense lawyer Peter Gilbreth said he would not permit Lynch -- who lives with his ailing wife, Judy, on Miller Road in Morristown -- to be interviewed for a news story. Gilbreth said he is awaiting word from the prosecutor's office on whether a plea offer will be extended to resolve the case of the Beginnings victims.
Gilbreth said he does not believe that it is fair for former students who say they were abused to come forward now hoping to influence the outcome of the current charges.
"To drum up emotion now about what's happened in the past would not be fair. Whatever happened now should be judged on the facts of this case," Gilbreth said.
Frasca knew Lynch at both Somerset Hills and Chartwell Manor. He was out of Chartwell by 1971, and he was interviewed years later by a prosecutor's office detective, but the statute of limitations had expired on any charges to be filed against Lynch in his case. Frasca said he was routinely taken to Lynch's bedroom, disrobed of the flannel uniform slacks that male students had to wear, put over Lynch's knee and paddled.
Frasca said he later turned to drugs for relief when he left Chartwell, and broke into the school to steal petty cash several times as acts of revenge.
"I realized he caused the kind of pain that no painkiller could fix. I had to do that on my own. I think he should not be out in society. He's taken a lot away from a lot of young kids," Frasca said.
Glenn Head, a former Madison resident who was at Chartwell Manor from 1971 through 1973, said he, too, was frequently paddled, and once slapped and thrown down for throwing a dessert at another student. He said he endured the physical exams by Lynch after showers. He said he believes Lynch was enthralled by beating the boys and then cuddling with them when they cried.
"He was constantly telling us he loved us. It's an absolute disgrace this guy would be out. The ruined lives this guy is responsible for is staggering," Head said.

Peggy Wright can be reached at (973) 267-1142 or pwright@gannett.com.