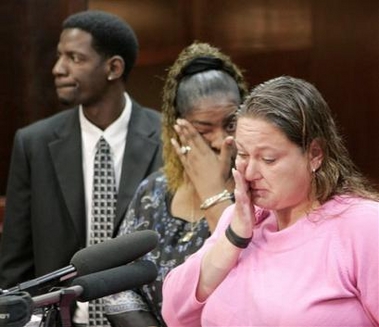 Shauna Manning, right, tearfully recounts what her son Aaron Swartz witnessed concerning the death of Martin Anderson at a news conference as Martin's parents, Robert Anderson, left and Gina Jones, center listen, Tuesday Feb. 21, 2006, in Tallahassee, Fla. Both Swartz and Martin Anderson were at the Bay County juvenile boot camp. Martin's family believe the boy died because of the 30-minute beating that took place hours before the 14-year-old died. (AP Photo/Steve Cannon)

Copyright 2005 Associated Press. All right reserved. This material may not be published, broadcast, rewritten, or redistributed.

PENSACOLA, Fla. (AP) - The family of a teenager who died at a boot camp for juvenile delinquents plans to exhume his body for a second autopsy because they do not believe the official finding that the death was unrelated to a scuffle with guards.

Martin Lee Anderson's family disputes that he died from hemorrhaging caused by sickle cell trait, a normally benign condition, and not from a 30-minute confrontation with guards that was captured by a camp security camera.

"Saying (Anderson) died of sickle cell trait is like saying a man who was lynched died because he had a weak neck," said attorney Benjamin Crump.

Crump said the family and the NAACP have asked that Dr. Michael Baden, a forensic pathologist who reviewed the medical evidence in the slaying of civil rights leader Medgar Evars, be involved in the second autopsy.

Baden did not immediately return calls to his New York office.

Anderson, 14, died early Jan. 6, hours after he collapsed while running laps and doing other exercises that were part of his admission to the Bay County Sheriff's Office Boot Camp.

He had entered the camp for violating probation in a theft case.

The security video shows as many as nine guards kneeing, hitting and dragging Anderson around the exercise yard. The sheriff's office has said the guards were trying to get Anderson to participate after he became uncooperative. No one has been charged or fired.

An autopsy performed by Dr. Charles Siebert, the medical examiner for Bay County, found Anderson died of hemorrhaging caused by sickle cell trait, which affects about one in 12 black people.

Siebert said physical stress caused a cascade of events ending in Anderson's red blood cells changing shape and causing him to bleed to death internally. The autopsy added that even the bruises and scrapes on the boy's body were linked to attempts to resuscitate him.

Numerous medical experts have called the finding unlikely, and on Friday, the Sickle Cell Disease Association of America also questioned it.

The association "states emphatically that the death of this 14-year-old young man is unrelated to sickle cell trait," said Dr. Willarda Edwards, president of the Baltimore-based group.

Siebert has defended his findings, saying the sickle cell determination was backed up by research and that numerous articles have been written about such cases.

Hillsborough County State Attorney Mark A. Ober was appointed by the governor to review evidence in the case. His office has declined to comment, calling it an ongoing investigation.