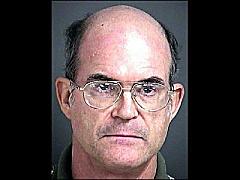 Merrick Pavlick

POINCIANA, Fla. -- An Osceola County teacher is facing battery charges for allegedly throwing a student. This is not the first time students have filed charges against Merrick Pavlick.

A 6-year-old student said Pavlick grabbed him by the shoulders on March 17 and threw him in a chair.

Pavlick is an art teacher at Poinciana Elementary School. He's facing misdemeanor battery charges for that crime.

Exactly one year before that incident, Pavlick was arrested for throwing an 11-year-old into a milk cooler. A judge ruled him not guilty on that charge. [Emphasis added]

Copyright 2006 by wftv.com. All rights reserved. This material may not be published, broadcast, rewritten or redistributed.