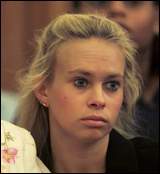 Jennifer Hargrove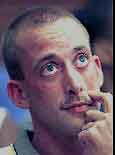 Thomas Gambrell
The paramedics who responded to the Hermitage duplex figured the newborn baby girl was dead. The infant had a slit throat, was cold to the touch and had turned blue. She had been wrapped in a plastic bag and stuffed into the trunk of a car.
Then they heard a gasp for breath coming through the wound on the baby's neck.
In the investigation that followed, police determined that one of the parents had cut the child's throat moments after she was born on April 16, 2001.
Both parents accused each other. Last year, Davidson County Criminal Court Judge Cheryl Blackburn accepted their guilty pleas and sentenced each to the maximum eight years in prison, calling it one of the most "violent, horrifying, shocking and reprehensible crimes" she had seen.
But barely 14 months after the sentencing hearing, the baby's father, Thomas Gambrell, is a free man. And the Tennessee Board of Probation and Parole on Tuesday recommended releasing the mother, Jennifer Hargrove, in the coming months.
"I cannot believe it," said Assistant District Attorney General Katy Miller, who prosecuted the case. "I thought of all crimes, that they would really have to serve most of that sentence just because it was so horrendous. I'm really shocked."
Gambrell's attorney, Nashville lawyer Tommy Overton, also said the early releases were not expected.
"I'm very surprised that my client was paroled the first time he went before the board," he said.
A combination of crowded prisons, sentencing laws and the rules governing the state's parole process allowed Hargrove and Gambrell to be released early.
A local victims rights advocate, who called the releases unjust, said she wasn't surprised, as few serve all of their sentences.
"The community needs to know this happens all the time," said Verna Wyatt, of You Have the Power. "They say eight years, but it doesn't mean eight years."
Not everybody gets out early, experts said. Convictions on more serious crimes require that the defendant serve 85% of the sentence. In a few crimes, such as rape of a child, the criminal must serve all of the sentence.
In the case of Hargrove and Gambrell, neither had been convicted of a crime. He pleaded guilty to attempted aggravated child neglect, and she entered a guilty plea to attempted aggravated child abuse.
For the child-abuse-related convictions, Hargrove and Gambrell, as first-time offenders, were eligible for parole hearings after serving 30% of their sentences. Additional time was knocked off for good behavior and participation in rehabilitation programs, Department of Correction officials said.
State law allows an inmate to receive a maximum of 16 days reduction in sentence for each month of good behavior.
Another state law designed to reduce prison overcrowding allows certain offenders to be considered earlier for parole.
"I think each of them led an exemplary life while they were in prison, which, of course, is why I think they were paroled," said Metro Deputy Public Defender Laura Dykes, who represented Hargrove.
Jennifer Hargrove, who was 19 at the birth, initially told police that she gave birth in the duplex, then slashed the newborn's throat before placing her in the car trunk.
Gambrell, her live-in boyfriend, said he hadn't known that the woman was pregnant and claimed to have slept through the birth. He told police he found the baby after following a trail of blood to the car.
Hargrove later recanted her confession, saying she had blacked out and that Gambrell and his mother had convinced her that she had hurt the baby.
Both parents faced up to 25 years in prison. But the conflicting stories made it nearly impossible to prove which parent tried to kill the child. As a result, prosecutors agreed to the plea deal.
"It's just a horrible case where nobody told the truth," Miller, the prosecutor, said. "I didn't want to risk having him totally acquitted when in the back of my mind he's starting to seem like the one who actually did it."
The child, known publicly only as "Baby Crystal," made a full recovery and now lives with an adoptive family, according to court testimony. A paramedic who responded on the day of her birth called her a "miracle baby."
Hargrove's recommended release date is Nov. 12, but she will probably be released months earlier if she continues to accrue good-behavior time credits.
Both face strict parole terms.