A Crossville, Tenn., pastor of Bridge of Hope Ministries is arrested for sexual battery by an authority figure. Bridge of Hope is associated with nationally televised World Harvest Church in Columbus, Ohio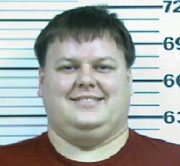 Benji Persinger, minister of Bridge of Hope Ministries, was arrested in Crossville, TN for sexual battery by an authority figure. He was released on a $50,000 bond.
Crossville, Cumberland County (WVLT) - There was no doubt a big surprise for a Cumberland County minister as he walked out of a hearing at the old courthouse where he was met by sheriff's deputies waiting for him with a warrant for sexual battery by an authority figure.
Benji Dale Persinger is accused of inappropriately touching a 14-year-old girl at his home in Crossville.
Volunteer TV's Eric Waddell was there when Persinger was arrested behind the old Cumberland County Courthouse.
Persinger wasn't shy as sheriff's deputies and TV cameras surrounded him Wednesday. He claims, among other things, that he's innocent.
"Hold on, hold on. I have a warrant for your arrest," says Cumberland County Sheriff's Investigator John Hayes says to Persinger as he walks out of the courthouse.
"I hope you all are getting this good, because this is attention that they are deserving," Persinger says to the news crews on hand for his arrest.
"For sexual battery of a child," Haynes continues.
"I'm innocent, I'm totally innocent," Persinger says.
The Cumberland County Sheriff's Department and the Distinct Attorney's Office claims the opposite, saying that Persinger—on February 26th—touched the girl between church services. Court documents say that he "rubbed her butt" then commented that she had a "nice body" moments before "touching her left breast."
"He was arrested on one count of Sexual Battery by an Authority Figure, that is a Class C Felony, it carries a 3 to 6 year sentence," says District Attorney David Patterson.
While being loaded in the sheriff's department van he claimed that his actions were not improper, nor sexual in nature.
"Where do you think these charges come from if you are not responsible?" Waddell asks Persinger.
"Teens that need help need attention, God Bless you," Persinger replies.
The head investigator on the case told us that there was at least one other witness to the allegations.
"We have probable cause to bring these charges we don't normally act on a simple he said- she said, we like to corroborate what has been said and in this case we have," Haynes says.
According to the District Attorney, Fentress County officials are investigating similar allegations there.
Persinger was released on a $50,000 bond after spending approximately two hours being booked at the Cumberland County Jail.
He is scheduled to appear in Cumberland County General Sessions Court on April 3rd.
We attempted to contact the "World Harvest Church" in Columbus, the parent church organization of the "Bridge of Hope Ministry", they have yet to return our calls for comment.