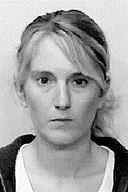 Christine Wolfe

RALEIGH - Jamaal Smith's parents grew worried when their son, an autistic 13-year-old at Fred J. Carnage Middle School, began having three to four seizures a day at school. "It was only happening in school," said his mother, Anitra Smith. "A child like Jamaal, if he's stressed, he can't verbalize it. It comes out with seizures."

The Smiths said they couldn't determine what was troubling Jamaal until Anitra Smith received a phone message from a Carnage employee who said Jamaal's teacher was abusing him at school.

Raleigh police arrested Christine Wolfe, 27, of Raleigh on Tuesday and charged her with two counts of misdemeanor child abuse and two counts of simple assault on a handicapped person, according to arrest warrants.

Detectives began investigating the case May 9 after a school resource officer told police that staff had concerns about Wolfe's behavior, said Jim Sughrue, a police spokesman.

In November, investigators say, Wolfe pulled Jamaal by his arm while he was descending stairs, causing him to fall two steps, according to arrest warrants. They think she repeatedly punched Jamaal in the stomach in February, according to arrest warrants.

In addition, investigators accused Wolfe of striking a second child in the face and neck with a wet dish towel in March, according to arrest warrants.

Wolfe began her job as a special education teacher at Carnage Middle School in August 2004, said a spokesman for the Wake County school board. She resigned last week and did not respond to a phone message left Tuesday.

The Smiths said they were relieved to hear about Wolfe's arrest, which came on the same day that Jamaal returned to classes after more than a week away.

All rights reserved. This copyrighted material may not be published, broadcast or redistributed in any manner.