Counseling center, staffer accused of negligence in death of girl, 7, in Rice Lake, Wis.
Six months after 7-year-old Angellika "Angie" Arndt died after being restrained at a Rice Lake, Wis., counseling center, prosecutors filed negligence charges Thursday against the facility and a staff member.
Northwest Counseling and Guidance Clinic, the Frederic-based corporation that owns and operates the Rice Lake center, was charged in Barron County Circuit Court with negligent abuse of a resident, a felony. Staff member Bradley A. Ridout was charged with negligent abuse of a patient causing bodily harm, a misdemeanor.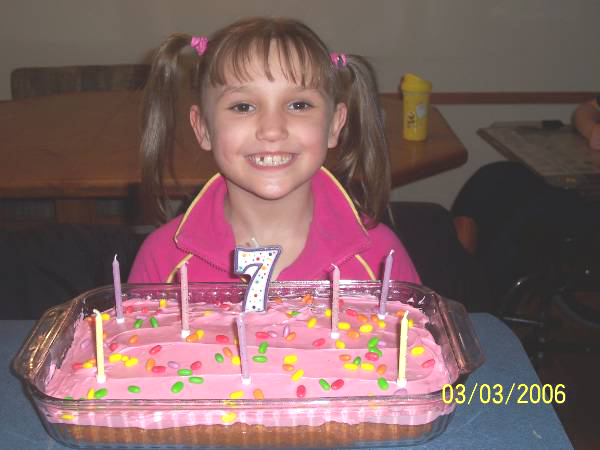 Angie's last birthday
Prosecutors allege a number of failures by the firm, such as faulty training and not consulting medical records. Prosecutors accuse Ridout of improperly restraining Angie.
"From the time of her admission to the time of her death, there had been numerous acts and omissions by employees of the facility that had compromised Angie's safety," John Knappmiller, chief investigator for the Wisconsin Department of Justice, said in charging papers.
Angie died May 26, the day after she was held down at the center until she was blue and listless, according to court documents. The girl, who had attended the clinic's day treatment center five days a week for a month for behavioral problems, had been restrained on nine separate occasions, according to a state investigative report.
"This was not an accident or mishap," Rick Pelishek, the Rice Lake-based regional director of Disability Rights Wisconsin, said after learning of Thursday's charges.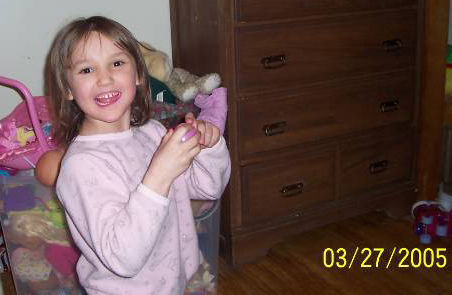 Angie
"I think it is an important first step in holding the organization accountable for their actions, and correcting the problems that have existed for years," he said. Disability Rights Wisconsin is a nonprofit watchdog group that earlier recommended the Rice Lake center be closed.
Ridout, 29, of Rice Lake, could not be reached for comment.
Jill Chafee, the clinic's executive director, said Thursday she has been on maternity leave and declined to comment on the suit. Clinic president Denison Tucker did not return a phone call.
Angie, an active girl who liked dolls, dresses and country music, was born in Milwaukee. Her parents relinquished their rights to her as a toddler and she became a ward of the state. She had been in and out of foster care before Donna and Daniel Pavlik took her into their Ladysmith home in early 2005.
The couple said they never restrained her and believed they were making progress with the girl, who, according to a state report, had been diagnosed with reactive attachment disorder, mood disorder and attention deficit with hyperactivity disorder.
Donna Pavlik declined to comment on the charges.
The Rice Lake clinic had its license suspended by the state and was closed after Angie's death. According to the charges filed Thursday, it failed to follow a treatment plan for Angie and used improperly taught and administered restraint on the 56-pound girl.
According to the charges:
When the Rice Lake center admitted Angie, staff failed to review her medical and psychological records.
Essential staff failed to consult a prepared treatment plan for Angie before treating her.
Insufficient guidance was provided staff in the proper implementation of the facility's highly ambiguous written restraint policy.
Inconsistent policy inadequately defined what circumstances required restraint.
The "emergency" restraint policy became justification for almost daily physical restraint of Angie.

"The staff member that was responsible for the training of all staff in proper restraint techniques, Mr. Tim McIntyre, had, himself, never actually received any appropriate training," the charging papers said. "Rather, the methods that McIntyre taught were self-devised and substandard, including his use of the face-down-on-the-floor-hold used on Angie on the day of her death."

After about 30 minutes. . . she became calm . . . 'bluish' and 'non-responsive'

Ridout, charged because he was the last employee to apply the "restraint technique" used by the center, was called to assist another employee already restraining Angie. He covered her upper torso with his own, and held the head of the crying, thrashing girl, according to court documents. After about 30 minutes she became calm, and Ridout believed she had fallen asleep, the criminal complaint said.

He then noticed she was "bluish" and "non-responsive." After attempts to revive her failed, an ambulance was called and she was taken to a Rice Lake hospital and from there airlifted to Hennepin County Medical Center in Minneapolis, where she was pronounced dead. The Hennepin County medical examiner ruled her death a homicide caused by "complications of chest compression asphyxiation" leading to "cardiopulmonary arrest while restrained by another person."

A criminal investigation into her death was launched by Rice Lake police, Barron County prosecutors and the state Justice Department. Assistant Attorney General William E. Hanrahan filed the charge against the company, while Barron County District Attorney Angela L. Holmstrom charged Ridout.

The corporation faces up to a $100,000 fine if convicted and Ridout a $10,000 fine and nine months in prison.

Corporate officials, who include its board of directors, and Ridout are scheduled to make their first court appearance at 1 p.m. Wednesday.

Tucker, the clinic's president, last week notified the Wisconsin Department of Health and Family Services that the Rice Lake facility would remain closed after the state said it had not made the changes needed to reopen. The clinic is one of 12 operated by Northwest.

Two clinics in Hudson and New Richmond, which have a similar name — Northwest Counseling Services — are not part of Northwest Counseling and Guidance.

Jennifer Bjorhus contributed to this report.

Kevin Harter can be reached at kharter@pioneer press.com or 800-950-9080, ext. 2149.