PRINCETON, WEST VIRGINIA — As a community struggled to cope with the death of 5-year-old Brooklyn Holcomb, a preliminary hearing this week traced the Jan. 15 events that brought her to the emergency room unconscious, covered in bruises and bearing what appeared to be the imprint of a belt buckle.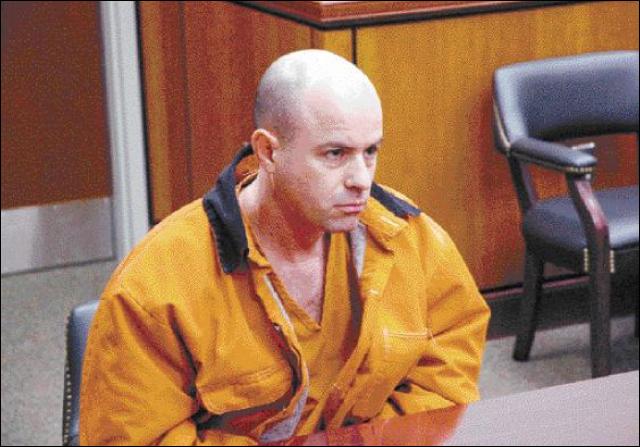 Robert Holcomb in court

Prosecuting Attorney Timm Boggess questioned first the emergency room physician who treated the battered girl and then the detective charged with identifying what killed her.

Ronald William Holcomb never raised his head.

The 34-year-old veteran and prison guard charged with first-degree murder sat at the defense table, with his eyes lowered, flanked by his attorneys, Tom Janutolo, Tim Harvey and Joe Harvey.

When asked a question by his attorney, he nodded, and he briefly looked up at a piece of wood he allegedly used as a paddle the day Brooklyn Holcomb lost consciousness.

Magistrate Mike Flanagan presided over the proceedings, as Boggess and his witnesses outlined the events that opened a murder investigation.

PCH Emergency Room physician Dr. Ammar Almehmi was the first to take the stand.

The doctor said he saw 5-year-old Brooklyn Holcomb for the first time, as she lay on an ER bed, unconscious. Her pupils were already fixed and dialated and did not react to light.

"That tells me there is some injury to her neurologic system," he said.

Knowing PCH was not equipped to offer neurological surgery on the scale the child could need, Almehmi said he immediately began communicating with hospitals in Charleston and Roanoke, Va., in attempt to find treatment.

As he waited on word from the hospitals and the transport that would take Brooklyn Holcomb on to another facility, Almehmi said he began a secondary examination that revealed multiple bruises on the child's body.

"There were too many bruises," he said.

The most disturbing part of the examination, Almehmi said, occurred when workers turned the girl over and saw the condition of her buttocks, allegedly beaten to the point that the skin was raw, bruised, broken and swollen all over.

"Her butt was kind of like raw meat," Almehmi testified.

At that point, he said PCH officials immediately contacted Child Protective Services and law enforcement authorities.

In addition to bruises on Brooklyn Holcomb's chin, and cheek, there was also a large wound, approximately three inches in diameter, on the back of her head, Almehmi testified.

A CT scan later showed there was severe swelling in the girl's brain.

When the doctor talked with Ronald Holcomb, Almehmi testified that the father told him Brooklyn Holcomb had a bleeding disorder that made her bruise easily and that she had "banged herself against something" earlier in the day and called for help.

Almehmi testified that Holcomb said he was feeding his 7-month-old child and told Brooklyn Holcomb to go to bed. When he checked on her later, he allegedly told the doctor she was unconscious.

As Joe Harvey questioned the doctor, he asked whether Brooklyn Holcomb's bruising and head injury could be consistent with falling down the stairs in the white, two-story home Holcomb, his wife and four children lived in.

Almehmi said he could not speculate on the cause of the wounds, only that they were there. "I know I can just tell you I found a bruise. What is the reason? I don't know," he said.

As the hearing shifted to a law enforcement angle, Boggess called Princeton Police Det. Sgt. C.N. Poe to the stand.

Poe testified he arrived as Almehmi and nurses attempted to treat Brooklyn Holcomb, who he believed, "basically, had been beaten."

At one point, he said the doctor looked up and said, "She's not going to make it."

Poe said he immediately began taking photographs of the girl and the various wounds that were obvious externally. Along with a host of less severe bruises that covered her body, Poe counted one on her chin, one under her right eye, one behind her ear, what appeared to be a handprint on her abdomen, a severe wound on the back of her head, marks on her neck that appeared as if she had been strangled, and extreme bruising on the small of her back, buttocks and upper-back thighs.

Poe said said he had never conducted any beating investigation in which the victim was as extensively wounded as Brooklyn Holcomb.

"Plain and simply, it was a physical beating," the officer said, describing the injury under her eye as one from a blunt object and a "scuff-type" injury on her lower abdomen, just above the genital area.

As medical officials worked to find a way to get the little girl more treatment with winter weather grounding all flights, Poe talked with Holcomb. The father was allowed to see the girl one more time before an ambulance took her to Charleston and he was arrested.

During a formal statement, Poe said Holcomb admitted to spanking Brooklyn, possibly with too much force.

"He explained that at approximately 9:30 [a.m.], he had fed Brooklyn her breakfast, and she wouldn't eat it," Poe said, adding that he said Brooklyn either spit the food out or made herself spit up.

According to Holcomb's statement, he did allegedly spank her for that, with a paddle, possibly "a little too hard." He later sent her upstairs, where Holcomb said she hurt herself, Poe testified.

"He said she threw herself down on the floor and that she had a tendency of falling down the stairs," Poe said.

In the early afternoon, Poe said Holcomb told him Brooklyn complained of a headache, prompting him to have her lie down on a day bed at the home. When he went to wake her, Holcomb reportedly said she did not wake up.

At that point, the defendant allegedly packed up the other children at the residence and took them to another family member before returning to get Brooklyn Holcomb and drive her to the hospital.

Once Holcomb was in custody at the Princeton Police Department, Poe said he noticed there was skin missing from Holcomb's knuckles, a sign, the officer said, meant the man had repeatedly struck something, hard.

"On his hands, knuckles, there was skin gone, as if you would strike something and scuff the skin off your hand," Poe said.

As authorities searched for evidence in the Holcomb household , Poe said they found some bloody rags in the garbage. Although officers located piece of wood at the house, Poe said Officer J.W. Howell had remained unconvinced it was the paddle Holcomb admitted to hitting his daughter with.

Holcomb's wife later turned in a piece of wood approximately 3 inches wide and one-half an inch thick that was believed to be the paddle in question, Poe testified. He said he believed it was located "under a bed upstairs."

Holcomb did look up briefly as Boggess passed the piece of wood to the defense counsel. He never raised his head.

More evidence surfaced after the little girl's Jan. 17 death. On Jan. 19, Poe attended the autopsy conducted by Dr. Zia Sabet.

Poe testified the medical examiner found the injuries on Brooklyn Holcomb's buttocks and back to be consistent with that three-inch piece of wood during the autopsy, which also revealed imprints of what appeared to be a belt buckle on her butt and back of her leg. There were imprints of her upper teeth in her lower gums, Poe said, indicating someone had covered her mouth with enough force keep her mouth closed and force the bruising, likely also stopping her breathing.

The officer said the medical examiner concluded that suffocation caused the 5-year-old to lose consciousness but that the head trauma alone would have been enough to claim her life. "She was beat to death," Poe testified.

The defense did not present opening or closing statements or introduce any witnesses Wednesday, but they did imply Brooklyn's medical conditions could have contributed to her bruising and some behavioral problems.

On different occasions, Holcomb's attorneys questioned state witnesses about their knowledge of a "bleeding disorder" and reactive attachment disorder, a controversial psychological condition most often associated with children who have been abused or have been part of extremely unstable family life. According to www.mental-health-matters.com, the disorder is characterized by extreme fearfulness, poor social interaction and aggression toward others or themselves.

Tim Harvey repeatedly asked Poe about the stairs at the Holcomb home, asking for the rise and width of the stairs, as well as the number of steps between stories and landings. He also asked if anyone collected the child's DNA from the bottom of the stairs.

"The injuries that she had all about her body were not consistent with falling down the steps," Poe said. At the hearing's close, Flanagan forwarded the case to the grand jury.

The panel convenes in February, but Boggess said it was unlikely Holcomb's case would be presented to this term.

Circuit Court Judge William Sadler denied bond in the case last week. Holcomb will remain in custody, pending the grand jury review and possible indictment.

— Contact Tammie Toler at ttoler@ptonline.net.

Copyright © 1999-2006 cnhi, inc.