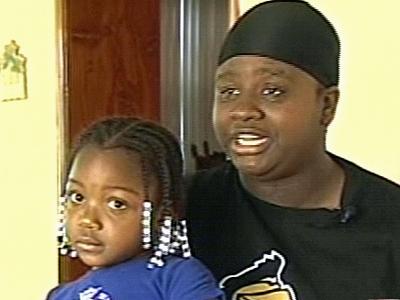 Keyanno Lewis and daughter

Listen to child's description of the event. Click: Audio clip
PUTNAM COUNTY, Fla. -- The principal of Peniel Baptist Academy is under investigation after hitting a 3-year-old girl
"He hit me with a swat … Mr. Principal," the 3-year-old girl told Channel 4 reporter Emily Pantelides.
She also said the reason she was hit was because she was crying for her mommy.
According to the Putnam Country Sheriff's Office, the girl's mother, Keyanno Louis, went to the school to talk to Principal Lester Jenkins Jr. about her daughter's behavior and, against the advice of Jenkins, opted to take the girl home.
The girl told the mother her bottom hurt because Jenkins "had beat her with a swat" and the mother said she saw redness on her buttocks, a police report said.
"When I took her to use the restroom, I touched her butt and she yelled, 'Ouch.' I wasn't really thinking but asked her, 'What's wrong?' She said, 'Mr. Principal beat me with a swat,'" Louis said.
She said it was her daughter's first week at Peniel Baptist Academy, and that the girl probably cried a lot because she was new and afraid. However, Louis said things should not have ended the way they did.
"Spanking -- they have no right to do that," Louis said. Keyanno Louis With Daughter Keyanno Louis says she took her daughter out of Peniel Baptist Academy after the girl said the principal hit her.
So, she filed a police report.
The school's principal told Channel 4 that his lawyers advised him not to speak with the media.
According to the police report, when questioned by a deputy, Jenkins, 51, acknowledged he "popped her one time on the butt with an open hand," because the girl had knocked items off his desk. The swatting happened while the girl was standing in the corner for disciplinary reasons.
When asked if he hit the child with a paddle, Jenkins told authorities he did not.
The deputy wrote up a report calling the incident a simple battery.
The Putnam County Sheriff's Office called the situation unique.
"I've been a cop 27 years, and this is the first one that I've seen like this," said Maj. Keith Riddick.
Louis said she has removed her daughter from of the school.
The family has hired an attorney.
"It's not about money or anything -- it's justice," Louis said.
Louis said the school usually sends a release form home that asks parents of students from kindergarten to 12th grade whether they want their children spanked by school officials. She said the form is not sent home to pre-K parents and, if it were, she would not sign it.
It will be up to the state attorney's office to decide whether to file charges.