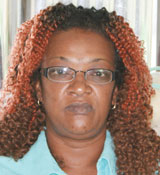 Latchmin "Charlene" Scott

A 16-year-old girl, who was forcibly sent to Tranquility Bay in Jamaica for rehabilitation, has made a "heart-wrenching" plea to her mother to remove her from the youth facility.

A letter, which was given to Cayman Net News by the minor's mother, Latchmin "Charlene" Scott, is dated 27 January and was given to Mrs Scott by her daughter's former Social Worker, Carol Robinson, during the week beginning 17 February.

"I really need you at this time; please I am begging you to get me out of here. Please it was bad enough in girls home but now it's worse," writes the minor.

The issue was first reported in this publication earlier this month after the juvenile was allegedly swiftly moved from the Frances Bodden Girls Home in Grand Cayman to Tranquility Bay without the family's approval.

The young person's aunt, Jan Scott of Cayman Brac, expressed concerns over possible violations of her niece's human rights and said the minor was not properly assessed before being dispatched to Jamaica for rehabilitation.

Jan Scott also stated that she felt the decision and handling of the matter was unjust and may worsen her niece's condition.

Latchmin Scott is very concerned with the way in which her daughter has been treated by the authorities. "She needed help but it could have happened in a different way," she said.

The mother explained that her daughter, who went to the Frances Bodden Girls Home in September 2007 after being made a ward of the court, was not happy at that facility. According to Latchmin Scott, her daughter's dissatisfaction was not helped by the Department of Children and Family Services' decision to prevent her from visiting or maintaining contact with her mother.

Latchmin Scott said that she had always sought to maintain communication with her daughter, an issue that is now exacerbated by her removal to Tranquility Bay.

She believes that Ms Robinson, who was the social worker in the case prior to the minor's removal to Tranquility Bay, misled her about the action that would be taken by the Department of Children and Family Services following a third suicide attempt by her daughter.

Rather than sending the teenager to the Jamaican facility, "she (Ms Robinson) told me the judge was re-considering the decision to go to Tranquility Bay," and would withdraw the order pending further investigations, said Latchmin Scott.

However, Latchmin Scott later found out that her daughter was sent to the facility in Jamaica the very day she and Ms Robinson had that conversation.

In her letter, the minor describes how she feels about being at the rehabilitation centre. "I am so depressed and frustrated; this place is much worse than you think and heard."

She continues, "Yesterday a supervisor came and told me that the court order was for two years but Mommy … I know I won't last here two months or more!"

Speaking of her future, the teenager states, "But my future has pure grey clouds and overcast skies from my point of view. Me coming here made my intentions of becoming a lawyer or something in life (go) down the drain."

"Mom, you know me inside out and when I tell you that I'm not happy and comfortable you know what I mean, how I feel and what I'm capable of doing."

While Latchmin Scott was pleased to hear from her daughter, she was equally upset by its content and felt that the system had failed her daughter.

Ms Robinson was asked to comment on the case. She said it was no longer on her caseload and that queries should be directed to Deanna Lookoy, Director of Children and Family Services.

Efforts to get comments from Mrs Lookloy by email and telephone before press deadline were unsuccessful.