On the night of January 11, Jordan Miles, an 18-year-old violinist and honor student at Pittsburgh's prestigious Creative and Performing Arts (CAPA) high school, was allegedly beaten by three undercover Pittsburgh Police officers. Miles was reportedly en route to his grandmother's house at the time, though he never reached his destination: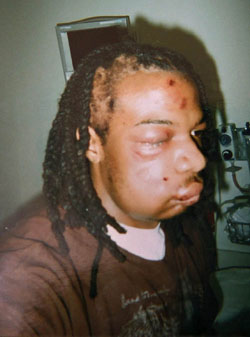 Jordan Miles badly bruised head and face after being arrested by undercover Pittsburgh police (Photo: Terez Miles).
According to the police criminal complaint, three officers on undercover patrol in Homewood — Richard Ewing, Michael Saldutte and David Sisak — spied Mr. Miles at 11 p.m. Jan. 11 by a house on Tioga Street. Seeing a heavy object in his coat, they identified themselves as police and ordered him to stop.
Mr. Miles ran and the officers shot him with a Taser and struck him several times during a struggle. The complaint says with "Miles's having assaulted two police officers, believing that he was armed, unable to handcuff him, and Miles not following any commands, [Officers Saldutte and Ewing] began to deliver knee strikes to both sides of Miles's body in an attempt to get his hands behind his back … At this point Ofc. Sisak delivered 2-3 closed fist strikes to Miles' head/face with still no effect."
The complaint said the heavy object in his coat turned out to be a bottle of Mountain Dew. (via Pittsburgh Post-Gazette)
Miles' account of the event contrasts that of the three officers. In response to why he resisted, Miles stated that the men never identified themselves as police officers and he believed they were trying to abduct him. So he ran and was quickly Tasered. Then, after falling to the ground, he resisted and was kneed in the ribs and struck with multiple closed-fist punches to the head. During the struggle, Miles' family and attorney also reported that a chunk of his hair was yanked out (see photo) and a tree branch pierced his gums. And according to news reports, Miles has no prior criminal record.
Undercover officers Ewing, Saldutte, and Sisak have been reassigned to uniformed duty pending an investigation. Kerry Lewis, Miles' attorney, denied that the undercover officers identified themselves. Lewis also stated that he believes the family will be filing a federal civil rights lawsuit against the officers.
Given the violent nature of the case, it will be interesting to see how Pittsburgh Police handle the matter.