Abolished in a majority of states, paddling is still practiced in Mississippi schools, but a federal lawsuit is hoping to strike a blow against corporal punishment.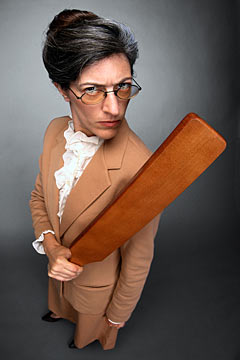 Credit: Corbis


Be afraid. Be very afraid.
The lawsuit seeks a "preliminary injunction or temporary restraining order to prevent paddlings" while the court considers the request that Mississippi ban paddling as unconstitutional because it is "unfairly applied based on gender and race," the Hattiesburg American newspaper reports.
The suit is filed on behalf of 16-year-old student William Cody Childress, a student at Independence High School in Coldwater, Miss. Childress says that in September 2009, he was looking at a camera in a classroom when he was hit twice "with excessive force," the Mississippi newspaper reports. Apparently, the female student the camera belonged to was not punished, the newspaper continues.
After Childress arrived home, his stepmother brought him to the hospital and contacted the county sheriff's office, the American says. Childress claims that as a result of the paddling, he was unable to "sit or use the restroom for days," according to the American.
Pictures of the student's injuries were taken. However, Gary Walker, the school district's superintendent, reportedly told the family there was "no evidence of wrongdoing," the paper reports.
Named in the suit are the school district, its superintendent and the school's principal. Due to the pending litigation, the school administrators would not speak to the newspaper. The lawsuit, the American reports, "seeks damages and attorneys fees," as well as "a declaration that corporal punishment on students is unconstitutional."
According to the newspaper, "about 30 states have banned paddling," however, the lawsuit incorporates Department of Education statistics that more than 220,000 students were paddled in the 2006-2007 school year with most of the incidents occurring in Alabama, Arkansas, Georgia, Mississippi and Texas. The suit states that in that school year, Mississippi paddled 7.5 percent of its student population, or 30,000 students, whereas Texas paddled 49,197 students representing slightly more than 1 percent of its student population, the American reports.
Besides the gender bias mentioned in the suit, the paper says "black students are paddled at disproportionate rates" and the state does not "clearly state" why a student would deserve a paddling.
---
Related: Corporal Punishment

Corporal punishment is the intentional use of physical force to cause bodily pain or discomfort as a penalty for unacceptable behavior. Corporal punishment includes any action that produces discomfort, such as:

Spanking, hitting, slapping, pinching, ear pulling, jabbing, shoving, or choking.
Forcing a child to assume a position that becomes painful over time.
Confining a child in an uncomfortable space.
Denying bathroom privileges.
Forcing a child to eat a noxious substance, such as soap or dog food.
Withholding water and food.

Corporal punishment is not an effective method of managing behavior. It does not teach a child how to act properly. At best, corporal punishment has only a temporary effect on behavior, and it may even make it worse. Not only does it reinforce some bad behavior, but it teaches a child that physical force is the way to resolve conflict.

Corporal punishment can also have emotional and psychological effects, both short- and long-term, such as:

Impairing a child's trust and confidence.
Causing embarrassment, humiliation, a sense of worthlessness, anger, resentment, and confusion.
Causing children to have difficulty forming close relationships, especially intimate relationships, with others later in life.

Effective alternatives to corporal punishment include distraction, time-outs, alternate activities, discussion of values, verbal reprimands, and natural and logical consequences.

Research has shown that positive reinforcement is more effective than corporal punishment. Catch your child doing something right and praise him or her. Don't wait until your child has done something wrong to notice his or her behavior.

SOURCE: Sabra L. Katz-Wise & Ralph Poore