NEW ROADS, LA (WAFB) - Corporal punishment is used at some schools with a parent's permission, but the mother of a sixth grader in Pointe Coupee Parish said an attempt to discipline her son left him with an injury that wasn't the result of a normal paddling.
The mother said she was upset last month after seeing her son receive corporal punishment from the principal of Rosenwald Elementary in New Roads. She said he had to sit sideways.
"They make them lay over the desk," the unidentified woman said. "Someone holds their hand and they give them three spankings."
Now, her 12-year-old son is in a cast after what she calls cruel school punishment.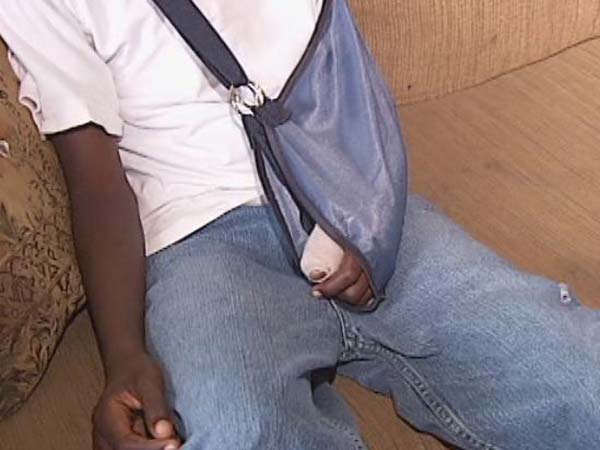 Injured child
"He grabbed him from behind. Fell to his knees, grabbed his arm. Now, he can't use his arm," she explained.
According to the incident report from the New Roads Police Department, the mother told investigators the principal wanted to paddle her son. She claimed the principal told the school resource officer to get the boy in the office "the best way he could." The resource officer is a New Roads police officer, but Police Chief Kevin McDonald said the officer takes direction from the school.
Superintendent Linda D'Amico said a couple of parents requested to see her about the paddling issue. She said no formal complaints have been made to the school board and the officer is still working at the school. She added she sees no evidence of wrongdoing on his part. The superintendent also pointed out the district's handbook allows for corporal punishment.
However, but the mother said she did not think paddling would lead to her son in a sling.
"Last year I signed 'No' on the paper. This year I made a mistake. After witnessing it, I wouldn't advise it for anybody," she added.
Several parents said they have been told corporal punishment will no longer be acceptable in the parish. They added they were told the principal, who is new to the school, was not aware paddling was not to be used as the first form of punishment.
The school board would have to meet to remove the corporal punishment section from the handbook.
Copyright 2010 WAFB. All rights reserved.