Phoenix police: Dead girl in footlocker tortured; 4 arrested
By William Hermann, The Arizona Republic, July 28, 2011
---


Phoenix police have arrested four adults, two of whom they allege tortured and killed a 10-year-old girl, and two of whom they allege abused the girl, in a case acting Phoenix Police Chief Joe Yahner called "an unspeakable tragedy, one of the worst we have ever seen."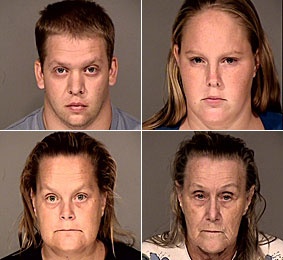 Top: John Allen, Samantha Allen
Bottom: Cynthia Stoltzmann, Judith Deal
The girl's death was initially reported to be an accident while playing hide and seek.
Investigators arrested the four suspects Wednesday night. The four were supposedly the guardians of Ame Deal, 10, and at least a dozen other children living in a residence near Broadway Road and 35th Avenue where the body of Ame was found July 12.
Police said Thursday that Ame had been forced her into a footlocker that was then padlocked, and she was left there to die. Police were called to the home the next morning.
Police said John Allen, 23, and his wife Samantha Allen, 23, were expected to face first-degree murder charges. Also arrested were Cynthia Stoltzmann, 44, and Judith Deal, 62, who face kidnapping and child abuse charges.
Discussing the case Thursday, police said Ame apparently was locked in the footlocker as punishment for taking a popsicle from the refrigerator. Before she was locked in, she was forced to spend many minutes doing backbends and other exercises, and running in the backyard despite the summer heat.
On other occasions, police allege, as punishment for failing to pick up a dog's fecal matter, the fecal matter was rubbed on Ame's face and she was forced to eat it.
The four suspects arrested in the case all lived in the same home with Ame and the other children. The elder Deal was believed to be the child's grandmother. Police say all the children were being homeschooled.
The other children in the house have been placed with Child Protective Services, and an investigation is ongoing as police try to sort out the relationships between the various children and the adults in the house.
Police were initially called to the home with a report that Ame had been found dead in a footlocker. Police were told that she had apparently hidden there while playing hide-and-seek the night before.
Police say they now suspect the adults coerced the other children in the house into supporting the lie about how Ame ended up in the footlocker.
Read more:
Documents: Girl who died in box suffered abuse for months
By: ABC15.com staff, July 29, 2011
---
PHOENIX - Court documents show a Phoenix girl who was found dead earlier this month in a box was also a victim of various forms of abuse over the last several months.

Police arrested four family members in the case Wednesday night for putting the 10-year-old girl in the box overnight as punishment earlier this month.

Phoenix police Sgt. Trent Crump said 10-year-old Ame Deal's grandmother, aunt and two cousins each face charges in the girl's death.

Ame was found dead July 12 outside a home near 35th Avenue and Broadway Road after family members said she had been playing a game of hide and seek.

Police said at a Thursday morning news conference that Ame was being punished for taking a popsicle and had actually been placed in a footlocker-type box outside the home.

ABC15 talked to the child's family after her death and an aunt said her daughter was watching Ame and several other children at the home.

She said Ame was playing hide and seek with the other children and was found hours later by a 3-year-old cousin.

Twenty-three-year-old Samantha Allen and her 23-year-old husband John Allen, face first degree murder charges for putting Ame in the box.

Ame's grandmother, 62-year-old Judith Deal and her aunt Cynthia Stoltzmann, 44, face charges of child abuse and kidnapping.

Police said Ame was placed in the box as an ongoing punishment.

According to court documents released Thursday, Ame was put in the box by family members multiple times during the last six months.

According to those documents, one witness told police that Ame's aunt and legal guardian, Cynthia Stoltzmann, "put Ame into the black box as a [disciplinary] measure. She saw this at least five times within the last few months."

That same witness also told police, "She saw Cynthia force Ame to eat dog feces" as punishment for not cleaning up all the dog feces near their clothesline.

Police also reported that one of Ame's aunts, Samantha Allen, "eventually confessed to putting hot sauce in Ame's mouth, hitting her with [a paddle called the] Butt Buster, and putting her in the box as a disciplinary measure."

A different witness told police that Ame was the "only child punished in the home" and was also "forced to crush cans barefoot." The same witness also saw "Ame being forced to exercise in extreme measures."

The police report also said the box had been padlocked with Ame inside it before everyone went to bed.

However, according to the police report, Stoltzmann admitted to a detective that "Ame has no bed or room. Ame sleeps on [the] floor of a stall shower. She has no blanket or pillows. This was a disciplinary measure due to bed wetting."

Crump said the girl was home-schooled and there were several children in and out of the home at various times. Twelve children are now in CPS custody.

A spokesperson for the Department of Economic Security that oversees Child Protective Services told ABC15 that there were no prior reports of abuse.

Crump said there is some indication the girl may have suffered some abuse in Utah where the family lived prior.

Police say the girl's biological mother is not in the picture. They are still trying to contact and confirm the whereabouts of the girl's biological father.

Police records indicate that some adults who were living at the home in tents in the backyard provided information to help them unravel the story.

Read more:
The horrific torture suffered by girl, 10, who died in boiling heat at home padlocked inside small box for eating a popsicle
By Paul Bentley, Mail Online, July 29, 2011
---



Girl suffered horrific abuse at hands of relatives, police said
Died locked in a tiny box in sweltering heat after she took a popsicle from the fridge
Previously made to walk barefoot on hot sidewalk, force-fed dog faeces and made to sleep in shower

A ten-year-old girl who died locked in a small box in the boiling heat as punishment for taking a popsicle from the fridge suffered horrific abuse at the hands of her family for months, it has emerged.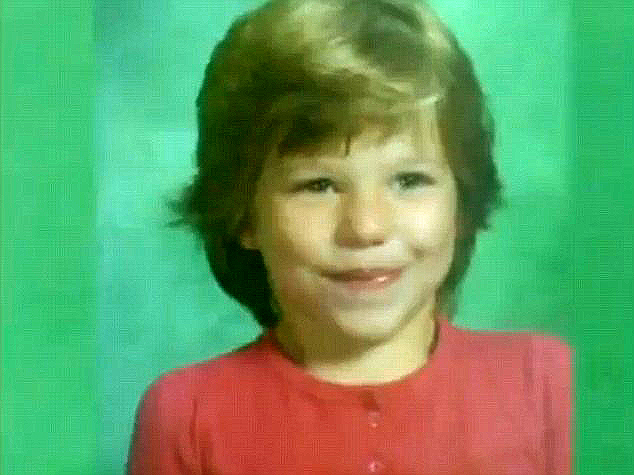 Ame

Ame Deal had been shut in the plastic container many times before by her supposed guardians, who would throw the box around with her inside, records show. She was made to walk barefoot outside in the searing heat, had to eat dog faeces and was often was forced to sleep in the shower as punishment for wetting the bed.

Tragic: Detectives believe Ame Deal, ten, suffocated after being put in a plastic container for punishment

Four family members have been charged in connection with Ame's cruel death after allegedly confessing to the brutal torture.

During the initial investigation, they told police that Ame and other children in her family had been playing hide and seek when she died.

They said they believed Ame must have climbed into the box to hide and accidentally suffocated. But weeks later other family members came forward to say the box was often used to punish Ame and police arrested Judith Deal, 62, Cynthia Stoltzmann, 44, and John and Samantha Allen, both 23.

Charged: Both Samantha Allen and John Allen have been charged with first-degree murder in the case of their dead cousin

Accused: The girl's aunt Cynthia Stoltzmann, left, and grandmother Judith Deal, right, have been charged with child abuse and kidnapping

The Allens – Ame's aunt and uncle - are expected to face first-degree-murder charges, while Stoltzmann, her legal guardian, and Deal, Stoltzmann's mother, face kidnapping and child-abuse charges.

Authorities said Ame was one of at least a dozen children being brought up in a Phoenix home strewn with rubbish, where they would often sleep in a series of tents in the garden. On the day she died, Ame was forced to do backbends and run around in the 103 degree heat outside before being locked inside the box by John as his wife stood by. Sweating profusely, she was then squeezed into the footlocker, which was padlocked shut.

Ame, who was four feet, two inches tall, suffocated inside the box, which was 14 inches wide, about a foot deep and less than three feet long, as the Allens slept.

Police said when the girl was found her clothes were soiled and she had marks on her right knee caused by 'forceful contact' with the box's lid.

'This child died at the hands of those who were supposed to love and care for her,' police spokesman Sergeant Trent Crump said.

Torture: Ame was made to exercise for two hours in the boiling heat before being padlocked inside a tiny box by her guardians

Crammed: Ame, who was four feet, two inches tall, suffocated inside the box, which was 14 inches wide, about a foot deep and less than three feet long

'This case has turned the stomachs of some of our most seasoned detectives.' Acting Phoenix Police Chief Joe Yahner on Thursday added that the case was 'an unspeakable tragedy, one of the worst we have ever seen.'

'When they'd put her in the footlocker, they would pick it up and spin it around and then roll it across the floor,' Crump said.

Court records suggest a history of abuse at the home, raising questions as to why neighbours and other family members did not act sooner to protect Ame.

Travis Naylor, who lived in a tent in the back yard of the home, said he returned home one day about six months ago and heard screaming from inside the box.

Other adults who lived at the house said on one occasion she had dog faeces rubbed in her face and mouth after she forgot to clean up after her pet.

She was also frequently beaten with a board her guardians called the 'butt buster', police said. Many neighbours reported hearing screaming from the house but none told police as they did not want to break the family apart.

The children would roam the streets outside the home until the early hours and they often had little or no clothes on, sometimes wearing no diaper or shoes, they said. Ame was the child singled out for torture, however, a witness told authorities.

The other children in the house have been placed with state Child Protective Services as the investigation continues.
---
For additional online media coverage of this incident, search "Ame Deal" using your search utility.