Child torture: Adoptive parents ordered to prison for child abuse
By Rene Stutzman, Orlando Sentinel, August 1, 2011
---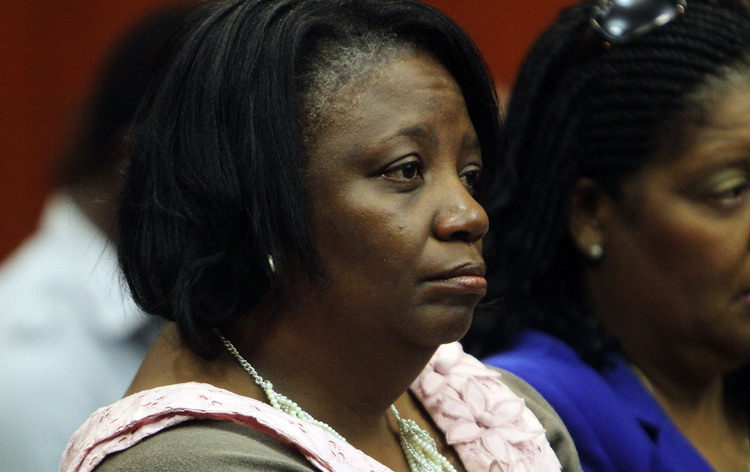 PHOTO: RED HUBER/ORLANDO SENTINEL / August 1, 2011
Pamela Hardy, 47, a stay-at-home Altamonte Springs mom accused of starving her two adoptive children and spanking them until they bled faces a minimum of 11 years in prison.
SANFORD - A judge Monday sentenced an Altamonte Springs mother to 11 1/2 years in prison for spanking a 9-year-old boy and his 6-year-old sister - children she had just adopted - so often and so hard that she left them bruised and bloody.
Pamela Hardy, 47, was the primary abuser in her household, but her husband, Dwayne Hardy, 50, was charged, too.
He was sentenced to two years in prison Monday.
Pamela Hardy had earlier pleaded no contest to aggravated child abuse and child neglect. He was convicted of a less serious charge - child neglect - by a Seminole County jury in June.
Circuit Judge Jessica Recksiedler pronounced sentence after listening to nearly five hours of testimony, much of it from friends and family members, who described the Hardys as godly parents who were strict disciplinarians but not abusers.
The children, now 11 and 7, were not in court, but their foster mother, Elaine Murray, read letters from each. The boy wrote that Pamela Hardy spanked them until they were bloody and punished them by putting them in a pen with the family dog.
"I've had nightmares every night now, and I hate it," wrote the boy.
At Dwayne Hardy's trial six weeks ago, the children testified that "Miss Pam" sometimes spanked them daily, often on their bare bottoms with a wooden paddle. She also smacked the palms of their hands with a kitchen spoon, leaving them bruised and gashed.
When Assistant State Attorney Stacey Salmons showed the judge photos of the children's injuries Monday, some courtroom onlookers gasped. The bottoms of both children have deep and permanent scars.
The children moved in with the Hardys in November 2009. They were removed by child protection workers nine months later.
The couple withheld food from the children when they misbehaved, for example, if the boy forgot to feed the family dog, the boy testified six weeks ago. Both children grew so hungry, they rummaged through the family's garbage for food.
Pamela Hardy did not testify. Instead she wrote a letter to the judge, saying she was sorry.
Her husband did testify,saying they decided to adopt the children because they wanted to make the youngsters' "lives richer, better, fuller. … It was never our intention to harm them."
Both children suffer from attention deficit hyperactivity disorder. When they moved in, they had medicine, but the Hardys halted that, as well as psychological counseling, according to Tori Telfer, a therapist who counseled the brother and sister then and now.
Instead, the couple tried to control the children's behavior with a sugar-free, gluten-free diet and discipline, they told authorities.
After nine months in the Hardys' home, each child now suffers from post traumatic stress disorder, something for which they will require years of therapy, Telfer said.

rstutzman@tribune.com or 407-650-6394.